Glass Upgrade for DG/HSI and Attitude Instruments in GA Aircraft
Replaces traditional electromechanical instruments; can be configured in attitude, DG/HI/HSI and turn coordinator positions
Bright, sunlight-readable 3.5" LCD color display, sized to fit standard 3-1/8" instrument cutout
Certified via approved model list (AML) for STC'd installation on more than 560 aircraft makes and models
Includes a 4-hour backup battery with battery status indicator
Dual G5 installation offers reversionary display capability plus the added redundancy of dual ADAHRS and dual backup batteries
The G5 electronic flight instrument delivers exceptional performance, reliability and ease of installation as a drop-in replacement for primary attitude and/or directional gyros in type-certificated fixed-wing aircraft. For select aircraft equipped with G500 or G500 TXi, G5 can also be used as a standby flight instrument to those systems. Providing an economical upgrade path via a comprehensive AML, the compact and cost-effective G5 is bringing modern "glass cockpit" reference to thousands of aircraft that would otherwise depend on older, vacuum-driven equipment.
Rock-solid Attitude Reference
When configured as an attitude indicator, G5 uses solid-state AHRS reference to provide smooth, steady and reliable horizon-based pitch and roll indications. In addition to aircraft attitude, G5 will also support display of airspeed, altitude, vertical speed, slip/skid, turn rate, configurable V-speed references, barometric setting and selected altitude — as well as visual alerts upon arriving at a preselected altitude. A built-in GPS receiver provides highly accurate groundspeed and ground track readouts. Plus, a dedicated rotary knob on the unit allows for easy adjustments to altitude bugs and barometric pressure settings.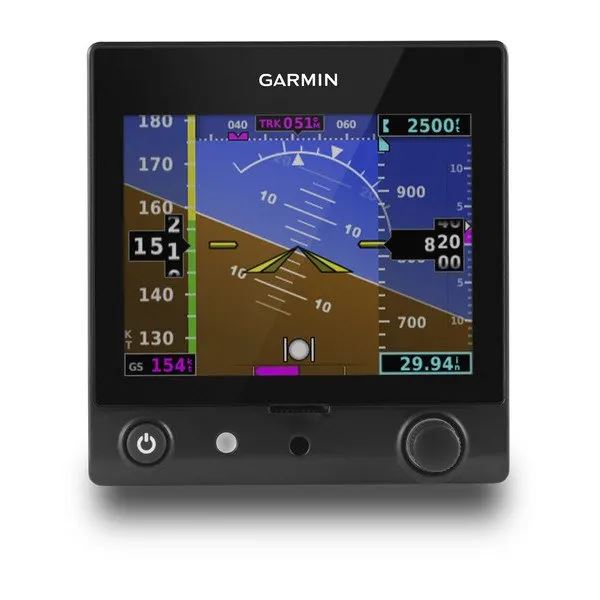 Affordable Glass Solution
Designed for installation in FAR Part 23 Class 1 and Class 2 aircraft (singles and twins weighing less than 6,000 lbs), the 3.5" G5 display fits into a standard 3-1/8" round cutout, taking up just a fraction of the space and weight previously required by conventional gyro-based instruments. It's valid for flight under VFR and IFR conditions. And, by combining visual cues and data readouts once scattered across a myriad of instruments, G5 makes flight information easier to scan — so pilots can respond more quickly and intuitively to any in-flight situation.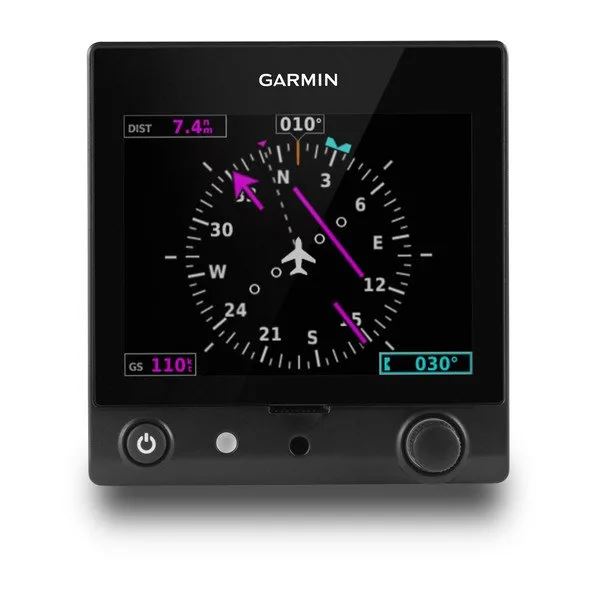 Gain a Clearer Sense of Direction
To provide even more situational awareness, G5 is also approved for installation as a replacement heading indicator/directional gyro (HI or DG) or horizontal situation indicator (HSI) in your panel. When paired with an affordable GMU 11 magnetometer, GAD™ 29 navigation data interface and select VHF NAV/COMMs or GPS navigators, G5 can serve as your primary reference source for magnetic heading, VOR/LOC guidance and/or GPS course guidance — as well as providing distance and groundspeed indications. The unit displays both vertical and lateral GPS/VOR/LOC course deviation when available.
Experience an Innovative Autopilot System
Reduce workload and fly with more confidence by pairing G5 with our GFC™ 500 digital autopilot1 (sold separately). GFC 500 offers silky-smooth flight control and advanced, safety-enhancing capabilities at a cost-effective price never before available on certified aftermarket solutions for light, fixed-wing aircraft.
Based on our revolutionary GFC 700 installed in thousands of new aircraft, GFC 500 offers Garmin ESP™ corrective technology, overspeed and underspeed protection, and a dedicated LVL button. Plus, it provides the ability to fly coupled GPS and IFR approaches with compatible Garmin navigators and NAV/COMMs as well as an optional go-around switch and automatic and manual electric trim.
As part of the GFC 500 system, G5 provides input and display of attitude preselect, heading bug, vertical speed bug, airspeed target and flight director command bars, while a dedicated GMC 507 autopilot controller provides large dedicated keys, knobs and control wheel for mode, altitude, heading and vertical speed selection.
Plus, in emergency engine power loss situations, pairing G5 with your GTN™ Xi navigator can enable Smart Glide™ functionality2. When activated, Smart Glide finds and creates a Direct-to route to an airport estimated to be within glide range — or alerts you if no airport is estimated to be within glide range. When paired with your compatible Garmin autopilot (sold separately), Smart Glide automatically activates the autopilot's IAS mode at best glide speed — using the GPS guidance to fly the aircraft near the selected airport — so you can resume control and land the aircraft.
Dual Displays Double Your Options
By installing dual G5 displays in your panel, you not only gain dedicated instruments for attitude reference and directional gyro/HSI guidance, but you also gain the advantages of backup redundancy with dual ADAHRS and reversionary display capability. In such installations, a secondary G5 can revert to display attitude information (consolidated with heading indication) in the unlikely event of a failure in the primary attitude indicator position. For added "get home" protection, each G5 display is available with a backup lithium-ion battery, which can provide up to 4 hours of emergency operation in case of an aircraft electrical outage or shutdown.



Learn More About G5
With supplemental type certification (STC) provided under an AML covering hundreds of certificated GA aircraft models, a G5 upgrade for your cockpit offers maximum capability and value for minimal downtime, paperwork and expense. You can select from an array of approved installation configurations incorporating single or dual G5 displays. And no matter which installation you choose, you'll be flying with the peace of mind that comes with our industry-leading Garmin warranty backed by our No. 1-ranked product support team. See your authorized Garmin installation center for more details on the G5 glass upgrade for your aircraft.